REAL LIFE INFORMATION
1.NAME: Cvetomir
2.AGE: 15
3.LOCATION: Sofia,Bulgaria
4.TIME ZONE: Gmt +2
5.ADITIONAL INFORMATION ABOUT YOU:Nopes,If u are interested just ask me

CHARACTER INFORMATION
6.CHARACTER NAME|RACE|CLASS|LEVEL: FaceRapeNight ElfHunter80..soon cuz im lvluping it

7.CHARACTER SPECS: Marksman <3
7.1MAIN SPEC: Marksman <3 <3 Lol
7.2OFF SPEC: Same as above

8.ALTS: Dont have

,Thats my first ally char lawl
9.PROFESSIONS: None
WOW RELATED QUESTIONS
10.HOW DO YOU CLASSIFY YOUR AMMOUNT OF PLAYING TIME?: Well i play long time but i go out with friends everyday for 5-6-7 hours.
11.WHAT ADDONS YOU ARE CURRENTLY USING?: Well DbmAt first place Recount2nd Gladius3rdX-pearl4thAtlasloot and many more
12.SCREENSHOT OF YOUR INTERFACE: sure take a look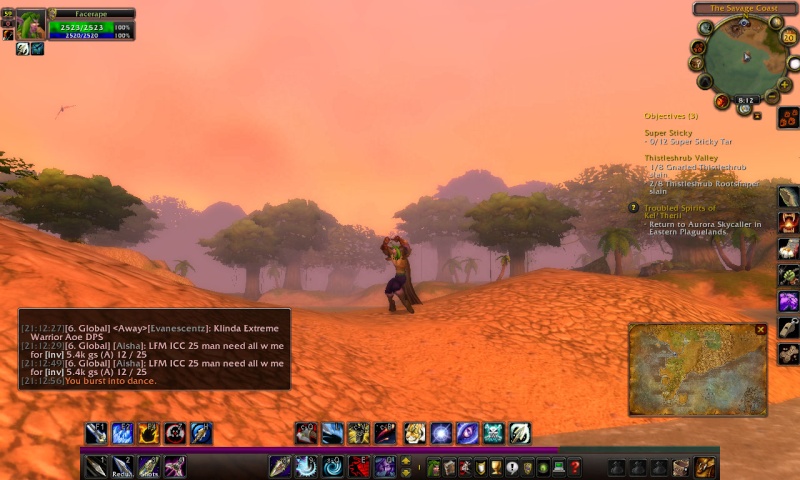 13.HOW LONG HAVE YOU BEEN PLAYING WOW?: Well about 7-8 years

14.]HAVE YOU PLAYED ON RETAIL?:A week only

15.WHAT MADE YOU CHOOSE GHOST DIVISION?: Nenad <3 xD,Jokin u seem at me like a fine guild and i wanna join

16.WHAT IS OUR GAIN FROM INVITING YOU?: Well u will see what u gain i love Pvein also i know all tactics on bosses in icc except Lk ofc ..

17.WHAT DO YOU PREFER,PVP OR PVE?WHY? Both are interesting to me

18.WHAT ARE YOUR PREVIOUS GUILDS, AND WHY YOU LEFT THEM?: U are my first guild

19.ARE YOU SOLE USER OF YOUR ACCOUNT?: Yes
20.ARE YOU ABLE TO GET ON VENTRILO? Sure
21.IS THERE ANYONE IN THE GUILD WHO CAN VOUCH FOR YOU?
Nenad? :O